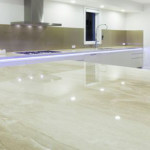 Beautiful marble countertops in Ellesmere Port will give your home the facelift you want. We are pleased to offer a first-class service. We believe that our family-owned business provides a professional touch that you cannot find anywhere else. Marble has risen in popularity because of its durability, strength and of course, its stunning looks.  Speak to us about your new marble countertop. Our expert team can advise you on the best design and layout for your new marble countertop. We will also provide an affordable quotation for the work required.
Refurbishing your kitchen is an exciting project. In Ellesmere Port, marble countertops can add the look you've always wanted. Marble is an excellent choice for a countertop, as not only does it look beautiful, it also has a number of benefits. A well cared for marble countertop, is long lasting and durable and will last for a lifetime. Marble also has a unique look. This is because the colour of the marble depends on the area from which it is mined. You'll notice that the finishing process will highlight its natural hues and colours. There are also other benefits to using marble. As it is heat resistant, it makes it a perfect material for a kitchen countertop. It is also resistant to scratches, cracks, and breakage.
If you are planning on having marble countertops in Ellesmere Port, David Williams is a master craftsman that you can rely on. We are pleased to offer a complete service with templating, manufacturing and installation, all completed by our own team. If you are interested in marble countertops for your kitchen, contact David Williams today. Getting a new marble countertop is an easy process. All you will need to do is pay us a visit with a sketch plan of your kitchen. We will advise you on the most suitable design and layout. Once you are satisfied with the proposed plan, we will provide a written estimate of the cost of the work. Realise your dream kitchen with a professionally designed, manufactured and installed marble countertop from our expert team.