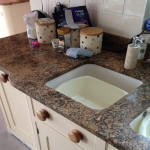 Stunning new granite countertops in Chester will definitely add value to your home. A kitchen is typically the place where all members of the family gather, often while food is prepared. If your kitchen is looking a little worn, perhaps it is time for an upgrade. With a granite countertop, you can change the look of your kitchen from a comfortable room to a stylish one. Granite countertops add a sophisticated look to any kitchen, and they also have numerous other benefits. As granite is a durable and long-lasting stone, your new countertop will last for years and will stand up to wear and tear.
To change the look of your kitchen in Chester, granite countertops are a superb choice. Speak to us about our complete service of templating, manufacturing and installation of countertops. You can bring a sketch of your kitchen to us and we will advise you of the range of granite available. We will also assist with both the design and layout, and will offer suggestions to add to the appeal of the room. We believe that granite is an excellent choice for a countertop. Natural granite has veining, colour variations and individuality, making it an ideal choice for those who want exclusivity in their kitchen. It has a sleek look and has a natural pattern and drawing Granite is also a tough stone with high durability.  It will not scratch easily.
For more information about granite countertops in Chester, contact David Williams today. If you would like to add a stylish and elegant look to your kitchen, granite countertops are an excellent option. They are easy to clean – a simple wipe down with soapy water will do the trick – they are also hygienic as they are non-porous. This means they are free of bacteria and dirt. Granite won't be damaged by placing hot items or cutting on it. Another advantage of granite is that once it is sealed, it is stain resistant. You will also be pleased to know that the colour of your granite countertop will never fade.