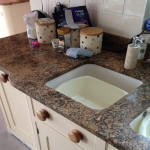 We are master crafters of quartz worktops in Greasby. Granite has been the stone of choice for worktops for many years and for good reasons. It's solid natural stone and beautiful. Along with granite but not as popular for worktops these days is marble. Again, natural beautiful stone whose very name conjures up luxury. We build beautiful custom worktops from those natural stone materials. Quartz has always been considered 'engineered" stone because it doesn't come out of the ground in big slabs. The beauty that many see in quartz is exactly because it's not solid stone. 90% of quartz is natural stone pieces that are ground and mixed with glass, polymers and binders into a rock solid slab as durable as granite but with less maintenance, many colour choices and extreme toughness. Quartz can be engineered to look like granite.
Our craft is stone work and although quartz is 90% stone we guarantee that in Greasby, quartz worktops will impress you when compared to other solid stone such as granite or marble. Quartz offers a unique alternative without giving up the beauty, durability and high-end look and performance of solid stone. If anything the polymers used to bind the stone makes quartz even tougher than natural stone. Quartz Countertops really are stain, heat, acid, scratch and impact resistant. Quartz is non porous so it doesn't have to be sealed and yet easily kept free of bacteria. Maintenance free is a big plus for quartz.
When you have selected the quartz worktops in Greasby from our large selection of colours we'll put our 50 years of stone carving to work to create your perfect worktop. To find out more about our quartz worktops, contact David Williams. We consult with you on design, create a template, and create the actual worktop of quartz. If this is exactly the worktop you expected then we install it in your home. Our team works together with precision and long experience together. We are very good and efficient at what we do. However, we're not finished until you the customer is completely satisfied. We'll give you a price quote, time frame and explain our system for creating perfect. The only surprise at the end is the counter looks even better than you dreamed.