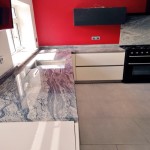 Marble countertops in Parkgate have been and continue to be a popular choice with many homeowners. It's no wonder, especially considering the luxurious touch it adds to the kitchen when installed. The visual appeal of the stone is made possible right from the formation process. The process of sediment crystallisation under great heat or pressure doesn't make marble the hardest stone, but its porous look only adds to its appeal. Together with the veining, it is easy to see why many would opt for it. You can have either a horned finish or a polished finish to suit your individual tastes. Marble countertops are easy to clean and they are much more affordable than some of its other stone countertops. You can get quality marble countertops from David Williams.
Our family run business has been in the industry fro a while, with David Williams having handled stone for more than 50 years. In Parkgate, marble countertops are only one of the stone options we offer, as we also provide granite and quartz countertops as well. We know that upgrading your kitchen countertop or bathroom and vanity countertop by using marble is a brilliant idea, as it will add that touch of class to the room. Plus with a wide range of colours that comes with the material, you'll be spoiled for choice on what to have. With the family members and a team of six craftsmen, we provide services that can't be beat. Our installation is pristine and our range of products is nothing short of quality. We are a one-stop shop as we offer a complete service of templating, manufacturing and installation of countertops, fireplaces, and even vanity tops.
If you're on the hunt for marble countertops in Parkgate, look no further than David Williams. Contact us today and find out how we can be of service. We'll offer you professional advice before the installation process, so that the choice you make is one that will put a smile on your face.