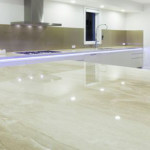 Are you thinking about installing marble countertops in Irby? Marble is one of the most popular options when it comes to kitchen countertops. Its beautiful, sleek appearance gives it a rich and classy look. The natural veining present in this stone further enhances its look. There are many colour and finish options when it comes to choosing a marble. In general, many homeowners prefer darker shades, especially if they have small children. Stains are easily masked by dark shades. With marble, there is minimum maintenance required. Simply wipe stains and spills immediately and have your countertops sealed once every year to ensure its longevity. Where can you get in touch with a marble supplier?
If you live in Irby, marble countertops and other natural stone materials are provided by David Williams. We have over five decades of experiences in supplying and designing beautiful marble countertops for kitchens. Our team specialises in providing bespoke solutions for your home. Apart from kitchen countertops, we also build vanity tops, fireplaces and work tops. As designer marble craftsmen, we recommend marble because it has a smooth finish. Apart from enhancing the look of your home, marble can fetch a higher asking price for your home. When potential homebuyers walk through your home, the kitchen is the first place they like to visit. When they view marble countertops, they are more likely to feel justified in paying your asking price. Apart from marble, we also provide other natural stones such as granite and quartz.
If you want to renovate your kitchen with a unique and handsome product, consider marble countertops in Irby. At David Williams, we provide some of the most beautiful marble countertops anywhere. But don't just take our word for it. Sometimes the proof lies in what you can experience. Why not contact us today and come down to our showroom? There you will see a dazzling display of some of our finest craftsmanship. Simply discuss your requirements with us and we'll be happy to provide you with a quote!