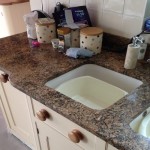 When you have your kitchen remodelled, quartz worktops in Parkgate are essential. Everyone wants to have a beautiful and functional kitchen and one of the most durable and stunning features are quartz worktops. We visit your home to measure the area for the countertops and the team will discuss the layout of the proposed kitchen tops with you. Once a decision has been made a design will be produced for approval by the client. Only then when the stone is chosen and the design approved, will the worktops be made. The composition and colour of the engineered stone is often quite unique. Your new stone worktops should easily last many years as stone is one of the most durable elements.
A stone counter top makes your kitchen look clean. In Parkgate, quartz worktops come in many different colours to suit your kitchen decor. There are many benefits in using an engineered stone which is made by mixing crushed natural quartz with about 5 % resin. While retaining the strength and toughness of the quartz the resin allows for improved impact resistance. The surface is more scratch resistant and less porous than natural quartz surfaces. The engineered stone does not need to be sealed like other stone surfaces. Due to the resin binding the stone is less prone to staining than other stone worktops. Engineered stone is as heavy as natural stone and our craftsmen fit the worktops themselves. This is firstly to make sure that there are no last minute changes to the cabinets that support the worktops and to make sure that they fit perfectly.
We are designer craftsmen and supply and fit quartz worktops in Parkgate. For more information about our quartz worktops, contact David Williams. You are also welcome to visit our showroom to see the range of stone available in many different colours. We have been working in stone for over 50 years and David Williams is a fully qualified stone mason. We are a family run business with a dedicated staff of six craftsmen who ensure that we only produce the highest quality items. Besides countertops we also manufacture beautifully proportioned hand-made fireplaces.