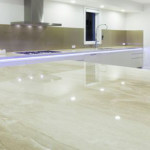 No kitchen would be complete without installing a few marble worktops in Greasby. At David Williams, we specialise in supplying and installing kitchen worktops from a variety of materials including natural granite and manufactured quartz. There are many options to choose from when it comes to natural granite, based on colour variation, veining and individuality. The quartz is for homeowners who are looking for a more high tech look. This material also has a wide range of colours, and it's best if you can see these two materials for yourself in our showrooms.
For homeowners in Greasby, marble worktops are installed directly by our own team. We template and manufacture each worktop, and in order to get started, all you have to do is call in with a sketch plan of your kitchen. From there, we will advise you on which material to choose, and which layout and design work best for you. Finally, we will give you a cost estimate, and from there, we get to work. We have over 50 years of experience as craftsmen, and the quality we strive for is second to none.
If you want to get the ball rolling, give as a call today, and take advantage of our great marble worktops in Greasby. We also offer vanity tops and fireplaces. Contact David Williams today if you are considering marble worktops for your kitchen.Vanity tops can give your bathroom a luxurious look. Many homeowners would like to replicate the look and feel of a high-end hotel bathroom, that is equipped with carefully installed limestone or marble. This is the best choice if you are upgrading your bathroom. When it comes to fireplaces, you can order your very own bespoke model made from natural stone. Our fireplace service includes expert advice which will help you choose the right design, material and proportion. If you have the chance, make sure to drop by our headquarters and check our unique lineup of fireplaces. You might just find the perfect one.