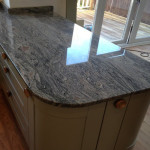 Instead of limiting your choices, consider quartz countertops in Irby. First it was marble, and more recently granite that have been the top choices for work surfaces. Both are lovely and durable stones which at David Williams our stone craftsmen work with successfully. We want to familiarise you with quartz as an additional option. Granite and marble are both natural stones that are solid, heat resistant and easily withstand normal wear and tear for decades. Natural stones have limited colour options. Those options are strong earth tones for granite or light coloured marble with pastel hues. For some, that's a problem when designing their kitchen colour scheme.
The fundamental difference between granite and quartz is that natural quartz is dull and unattractive. In Irby, Quartz countertops are durable and attractive. To create a hard surface that is attractive crushed quartz is blended with about 7% resin and colour dyes. Since quartz has few flecks or natural veins, colour can be used effectively. The quartz work surface is still just as durable and maintenance free as the granite countertop. However, you can't claim your worktop is solid natural stone. If that doesn't bother you then you are in for a treat. You can still get pastel or earth tones as colours in quartz. However, now you can choose from strong blues, greens or even onyx among others. The colour patterns worked into the quartz are pure works of art.
If you want your home filled with colour, including the kitchen and baths then Quartz countertops in Irby is the best choice. David Williams' stone crafters will work with the stone of your choice to achieve a perfect fit for your worktop area. First, we measure then we build the template and when that's perfect we create from stone. We want to make sure you are pleased with the outcome so you must sign off on each milestone through completion. Contact David Williams and stop by our showroom. Compare colours available in quartz and imagine your worktop as the emerald, ruby or sapphire of your bold new kitchen.