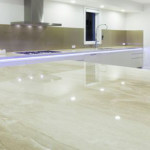 Granite might well have been the most popular at one time, but marble countertops in Hoylake have become far more sought after because of its strength, durability and its stunning looks. Luxurious to look at, it is available in many alluring colours. There are different types of marble and different colour varieties, but at David Williams, we've got all the answers for you – after all we've been handling stone for more than 50 years. We're a family run business with dedicated craftsmen, and between our experienced, skilled staff and our custom designed factory in Prenton, we offer our customers a one-stop service. Once you have decided on the marble you want, we work with you to design and visualise how your new countertops will look. We come to your home and are able to give expert advice on colours, styles and sizes of marble countertops for your home.
Marble Countertops offer awesome beauty, and your choice of colours also includes black, white, green, rose, grey, yellow and more. In Hoylake, marble countertops aren't only a good choice for bathrooms, but for kitchens too, because marble is heat resistant. This is why it has become popular for fireplace surrounds as it won't yellow from the heat. Marble should be sealed when it is installed, and this is why it is important to get professionals in. If you love the look and feel of marble – make sure you get us to install your countertops. We offer a complete service when it comes to marble countertops that includes templating, manufacturing and installation, and all by our own team.
Some people just love the look of white marble countertops in Hoylake, but they can't choose between granite and marble, worrying that marble may be high maintenance. Contact David Williams when you are considering marble countertops for your home. The only way to understand everything about marble is to speak to us – we're the experts, and by dealing with us and checking all the facts with us, you can have confidence that you've made all the right decisions.