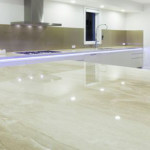 Quartz Countertops in Parkgate will bring beauty and sophistication to your new kitchen. Quartz is a wonderful material to use in your design. It is hard wearing and durable and will last for many years. It is available in a range of beautiful colours. You are sure to find the perfect match for your room. This material is unique and provides an alternative to traditional products used for worktops, namely granite and marble. Quartz brings something fresh and contemporary to your design and it will reflect your sense of style.
If you wish to you use natural stone for your new build or renovation in Parkgate, quartz countertops are one of the available options. At David Williams, we have been working with a range of natural materials for more than 50 years. We have the experience and expertise to deliver a very high level of craftsmanship. Your worktop will be installed to the highest of standards and is sure to become one of your favourite features in your home. We follow a process that has worked for many years. We will visit you in your home to see what you are trying to achieve. You can then visit us at our factory to choose the perfect material for your build. Once this has been accomplished we will do the rest. We will template, cut, polish and install your worktop and you are sure to be delighted with the result.
A worktop is an investment item and when you choose quartz countertops in Parkgate you want reassurance that you are getting the best possible material and workmanship. We have stood the test of time and have built an excellent reputation in the region. If you would like an indication of costs you can bring us a sketch of what you want and will provide you with a quote. Contact David Wiliams today and speak to one of our friendly team members about quartz countertops. With so many options available, we are sure to have the perfect stone for your new work surface.