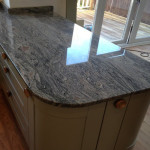 We at David Williams have beautiful marble worktops in Ellesmere Port, as well as gorgeous stonework in quartz and granite. Marble is synonymous for some with luxury and refinement. If marble is what you want then you will be glad to know it is affordable at David Williams. Our process is always the same with the result being individually customised for your space. Come in with your measurements for a worktop and select a stone. Take a sample home to make sure you like it as much in your work area as you do in our studio. We will built a template of your worktop, perfect the fit in your home and only then do we cut the stone. We do our own installation because we want it done right.
If you want soft curving lines in your worktop, marble is a good choice of stone because it is softer and easier to shape. For most homeowners in Ellesmere Port marble worktops are appreciated for the lovely pastel hues that add warmth to your work area. Although marble is a softer stone it is still durable. You can expect long life and beauty from your marble worktops with a small amount of care that will maintain the soft glow of the finish. For a tasteful and expensive looking bath area, extend the marble worktop to include the backsplash or even to frame a mirror. You will be surprised how affordable it is. The secret to our affordability is simple. Every middle man you eliminate saves you money. We start with the marble and cut, polish and install the worktop ourselves.
There is nothing to fear from choosing marble worktops in Ellesmere Port for your home. Contact David Williams for your marble worktops. We will come out to your home and create some designs from which you can choose. If you already know what you want we will utilise the space you have and offer up suggestions. You will see exactly what it looks like before we ever install it. Marble is always elegant and admired but choose it for your worktop because you love it's effect on your living space. Fortunately you will be able to enjoy working on your marble worktop for decades because marble, like most stone, never wears out.