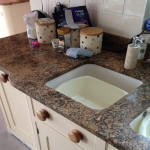 Granite worktops in Greasby can be installed by our skilled craftsmen at David Williams. Over 50 years of experience has gained us extensive knowledge and practice in handling stone. As a family-run company, we aim to always provide a valuable and excellent service to all our customers. Our reputation is one of note and we take pride in the work we do. The way we go about doing our work is of great importance to us. We combine skilful workmanship with family values and fair costs to provide a service that will leave everybody satisfied.
If you are refurbishing your house in Greasby, granite worktops from David Williams will be add a stylish look to your kitchen. We are happy to advise you on your material choice. Are you unsure how to go about selecting your worktop and how the installation process will go? Our method stays the same for every customer, new or existing. We will first visit your house to discuss your requirements with you and ensure that all measurements are correct. A proposal will be designed for you, and we invite you to our factory so that you can make your choice of which type of granite you would like. We are available to provide advice and tips the whole way through. The final step is to agree on an installation date. We ensure that the installation is prompt, non-intrusive of your day-to-day schedule and that we thoroughly clean up after ourselves. All worktops go through precise templating, attentive polishing and cutting, and top-class installation to provide you with surfaces that will be admired by many.
Granite worktops in Greasby can add value to your home. Contact David Williams today for more information about how to get stunning granite worktops for your home. Change the look of your kitchen and increase the value of your home with our granite worktops. They are stylish, easy to clean and simply look great! On top of that, they are also quite durable and will last much longer than a plain wooden countertop.