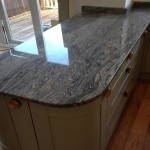 Including marble countertops in West Kirby can add a touch of glamour to your kitchen. Marble countertops have become increasingly popular for their many advantages. When it comes to countertops, few things state luxury and elegance like marble. Marble has been used as a building material for centuries because of its combination of strength and beauty. Marble also naturally stays cool making it perfect surface for rolling dough or pastries. As it is heat resistant, it is regarded as one of the best work surfaces you can find for a kitchen.
Change the look if your kitchen! In West Kirby, marble countertops are expertly crafted by David Williams. As a master craftsman, he offers a complete service of templating, manufacturing and installation. If you have dreamed of having an elegant and classy looking worktop in your kitchen but have been concerned about the cost, you will be delighted to find out that this is within reach. Why not pay David Williams a visit? Take along a sketch plan of your kitchen and you will be advised about the most suitable plan and layout. Once this has been discussed and decided on, they will give you an affordable estimate of the cost of work. They provide a complete service of templating, and manufacturing of the worktops, as well as installation by their own team.
Marble countertops in West Kirby will make your kitchen a pleasure to work in. If you would like to change the look of your kitchen with marble countertops, contact David Williams. Their family-run business will assist you in every way possible, ensuring you get the dream kitchen you have been waiting for.