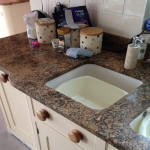 Granite countertops in Birkenhead are a great way to add that wow factor if you are considering a kitchen makeover. At David Williams, we offer a wide selection of top-grade granite countertops to match your décor, design plans, budget and requirements. Granite provides an amazingly attractive look that blends easily with contemporary styles and many classical ones as well. Its timeless aura, long-lasting shine and visual appeal make it one of the most popular materials in kitchen and bathroom decoration plans. You'll often find that it demands center-stage in any room that you install it in, because of the sheer elegance and class that it brings to your interiors.
Another great reason for choosing granite is that it's extremely tough, durable and hard-wearing. In Birkenhead, granite countertops are scratch proof and heat resistant, making it the ideal surface for high-traffic workstations in your kitchen. You may find that it can dull your knife blades very fast. As it is such a hard material, it is not the perfect surface to cut your veggies on. At David Williams we offer a great selection of colours and patterns with attractive natural veining, colour variations and individuality. Granite is also perfect for your outdoor requirements – table-tops for patios or shelves for holding your plant collection, for example. You can consult our master craftsmen for more suggestions on the use of beautiful, natural granite material in your home.
It's important that granite countertops in Birkenhead are professionally installed. Contact David Williams today to find out more about granite countertops. We can also discuss style and installation. We have the expertise, special tools, skills and equipment for fabrication and installation. We provide a complete service of templating, manufacturing and installation. Bring a sketch plan of your kitchen and we can advise you on the range of granite available. Once this has been discussed, we will provide an estimate of the cost of work.