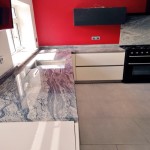 Beautify your kitchen with quartz countertops in Greasby from David Williams. We're proud to offer beautifully crafted, high quality quartz countertops at a reasonable price. Moreover, we have over 50 years of experience in craftsmanship with both quartz and granite. Natural granite offers a wide variety of colours, individuality and veining, while quartz has a more high tech look to it, with a range of colours that allow homeowners to build the kitchen of their dreams. Speak to us about a new quartz countertop for your home. We offer our services for templating, manufacturing and installation. When you choose our professional workmanship, you are choosing a countertop that will surpass your expectations.
The process starts with your sketch plan. In Greasby, quartz countertops can be designed according to your preferences, design and kitchen layout. Thereafter we'll provide a cost estimate before the project begins. As master craftsmen, e can design, craft and install your ne quartz countertop at an affordable price. Our workmanship speaks for itself, and we believe that you will be thrilled with your ne addition to your kitchen. Nothing says clean, hygienic, smart and modern quite like a quartz countertop. Known for its many benefits, quartz remains an ideal choice for a countertop. Quartz is a durable stone and your ne countertop will provide excellent usage for many years. A quartz countertop will require very little maintenance and will remain as good looking as the day it as installed.
Quartz countertops in Greasby are also a hygienic option. As quartz is not porous, it can resist bacteria, and, as such, is an ideal material for your kitchen countertop. Quartz is friendlier to the environment as it is not mined. Rather, it is created from local and recycled materials. Its 95% ground natural stone combined with 5% polymer resins. Additionally, it is available in idea variety of different colours. For more details about our quartz countertops for your kitchen, contact David Williams right away. We are also members of BRAMM, our trade association. This provides you with peace of mind for security, satisfaction and professionalism.