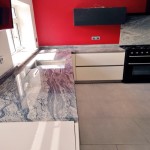 Spruce up your kitchen by installing marble worktops in Caldy. It is no secret that having good counter spaces can be just as good aesthetically, as well as being practical.  Your counter top can be used for a wide variety of things. This makes it imperative that whatever you install must also be strong and durable. Your worktops can also help to enhance the overall 'feel' of a room; a feat that is usually managed through colour and grain selection. With all this in mind, it is important to remember and acknowledge that selecting and installing worktops is a significant part of planning and designing a room. A good worktop can play a part in making an impressive first impression on all those who enter the room.
For homes in Caldy, marble worktops can add a certain pizzazz and style. Marble is a natural stone made of carbonate rocks. There are different types of marble; meaning that marble worktops also come in a wide range. They are also of different colours that can appeal to an equally wide range of tastes. Marble worktops have become a symbol of luxury and sophistication when they are installed within the home. They are widely used in kitchens, and can truly be art forms if selected and installed in a careful deliberate manner so that not just the stone, but also the veining within becomes a statement piece.
Marble countertops can be quite the upgrade in Caldy. In order to get the desired effect from your worktops, you must make sure that they are of high quality and have been well installed. If you would like to make a selection, or simply compare what is available before making a decision on which countertops to install, contact David Williams. We are craftsmen who work with marble and granite for installation on kitchen worktops. You may come to us with plans of your kitchen and we will work with you to help you see your ideas come to life, from design to installation. Our craftsmen are widely experienced and when you see the results of this brought out in your new worktops, you will be in awe every time you enter your kitchen.