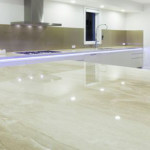 Marble countertops in Leasowe with a pearlescent glow and mysterious veining formed deep below the earth is the very definition of luxury stonework. Choose marble for your kitchen, baths and laundry room. When used as worktops, the subtle hues and cool to the touch surface promises mundane tasks like folding laundry, rolling out pastry and brushing your teeth will be a bit more special. It's natural to assume a beautiful marble countertop is too expensive but in fact it's less expensive than other natural stone. The final cost depends on the depth of the stone and you will usually have a choice of 3 thicknesses. When counting the cost of marble, factor in its durability. It's already been around for thousands of years so another thirty to fifty years in your kitchen isn't much of a stretch.
Here in Leasowe, marble countertops at David Williams, designer craftsmen in marble, we work from many years of experience. We have an enviable roster of satisfied customers. Our selection of marble from which you may choose is high quality but competitively priced. Marble is more easily carved and shaped than other stones so get creative with your countertops and choose a free form shape instead of the usual rectangle. We are not afraid to try the unconventional and we'll do our best to make it work. Or, tell us your ideas and we'll do the design.
When you buy marble countertops in Leasowe at David Williams you get a comprehensive custom service. Using the talent in our shop we measure, design, and create a template and then the final marble countertop. When we know we have it exact, we install the countertop with a perfect fit. Nothing is left to outsiders; the whole undertaking is done in our shop. Contact David Williams and talk to us about what you're looking for in a new marble countertop. You can select your own marble slab with the colours and veining that appeals most. Our staff will instruct you on the proper care for your marble top so it stays new looking for as long as you own the home.