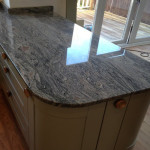 One of the first things you will want to order are new granite countertops in West Kirby when you design your new kitchen. One of the reasons for this is that you will need to choose the colour scheme and by selecting granite worktops that have the colour you require you will be able to choose the decor of the kitchen around them. Natural granite has veining and colour variation and gives the kitchen an individual look. There is a vast range of colours in the natural granite stone and we would advise you to visit our showroom or factory to choose your stone.
We supply a wide range of counters for your kitchen in many different stone materials. In West Kirby, granite worktops come in a wide range of colours with delightful contrasting specks swirling within the stone. We supply and fit both natural granite and manufactured quartz. The engineered quartz stone is made up of around 93% stone and 7% resin. These are pressed into large blocks which can then be cut like other stone to make the worktops. We also supply marble worktops for customers who want a whiter kitchen. Granite is often cited as the most durable natural countertop material. It is known for resisting cracks and chips well. Hot pots can be placed directly on the stone with no damage and you can cut your food on the surface without any damage.
We manufacture and install granite worktops in West Kirby to your specifications. Contact David Williams today for a free, no obligation quote on your kitchen worktops. We offer a complete service of templating, manufacturing and installation by our own team of fully qualified craftsmen. David Williams is one of the few time served stone masons in the area and he and his team are known as expert stone workers. Our team fit the new worktops as they are extremely heavy and can be damaged if dropped. We have the knowledge and experience of many years of working with stone to safely install your new worktops.