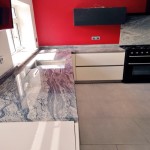 Consider quartz countertops in Wirral is you are considering a fresh new look for your kitchen. If you love the idea of natural stone but you love colour even more, then choose manufactured quartz from David Williams. There are many benefits to choosing quartz as the material for your countertop. Apart from stunning good looks, a quartz countertop is the hygienic option. As quartz is non-porous, it does not allow the absorption of liquid, ensuring a clean and bacteria-free working area. It is also incredibly durable. Your new quartz countertop will resist corrosion and stains from household cleaning solutions, liquids, and oils.
The good news for busy home owners in Wirral, quartz countertops require very little maintenance. As they are non-porous, they do not need to be sealed. A quick wipe-down with a mild detergent is all that is needed to keep them spotlessly clean and looking like new. These countertops are  stain-resistant as well, so dropping a glass of wine on them simply needs a quick wipe with a damp cloth. If you are convinced the benefits of quartz countertops meet your requirements, speak to David Williams today about a new quartz countertop for your home. Our quartz countertops are available in a range of different colours, and can be considered a unique alternative to other more traditional options.
To find out more about affordable, professionally made quartz countertops in Wirral, contact David Williams. Pay us a visit and bring a sketch plan of your kitchen. We will advise you on the quartz available. Then we will help with the design and layout, and give you an estimate of the cost of work. We provide a comprehensive service with careful templating, cutting, polishing and installation, designed to provide you with the quartz countertop you want. Our family run firm takes great pride in the top quality services we provide to all our customers. Why not change the look of your kitchen today with a new quartz countertop from David Williams? Not only will you add a sophisticated and sleek look to your kitchen, a quartz countertop is sure to add value to your property.