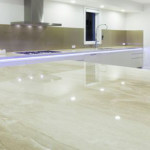 Consider marble worktops in Birkenhead to give your interiors a look of elegance and style. At David Williams, we pride ourselves on our long tradition of handling stone. Established as master stone carvers fifty years ago, our company earned a reputation for creation and installation of top-quality hand-made fireplaces on the Wirral. Today this family-run business is staffed by excellent craftsmen who produce premium products to suit your needs, preferences and budget. We offer a one-stop-shop for the convenience of our customers in the local area and beyond, where they can view examples of our work and also get design advice and expert installation facilities. Each and every one of our products is designed after careful discussion with the client, evaluating the site and gaining a good understanding of the specific requirements of the project.
For property owners in Birkenhead, marble worktops are a popular and very attractive choice for kitchens and kitchenettes. Marble has a fresh, clean and bright appearance along with its essential beauty. It is also more cost-effective when compared to granite or steel. However, marble is also softer and more porous than other materials, making it more vulnerable to staining, chipping and scratches. If you're using it in your kitchen, you have to make sure that you're careful about spills. Wine, vinegar, oil, and juice can stain it badly. In the bathroom, shampoos and soaps, nail-polish, and harsh cleaners can damage the surface and take away the shine and polish. The solution to this is to get your marble worktops thoroughly sealed when they're installed and repeat this every three or four years.
When you're shopping for marble worktops in Birkenhead, you have a great variety of colour and pattern options to choose from. On the other hand, marble looks stunning and gives enormous visual appeal. Every piece is unique and it's not easy to find two separate pieces. Contact David Williams today if you are looking for marble countertops for your home. Marble is highly heat-resistant and can withstand high temperatures from hot pans and utensils. It also remains cool to the touch. Our expert team can help you make the right choice and install it in your home.