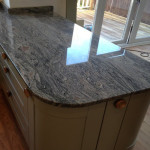 The best marble countertops in Hoylake are an excellent choice if you are fitting a new kitchen in your home. You can co-ordinate your colours with a beautifully veined piece of marble. The veining gives the stone character and colour and although the overall appearance is a soft pearly white the various swirls of colour in the stone can be very eye catching. Marble is formed from limestone that has been subjected to intense pressure and heat. Impurities of many kinds leave the colourful veins in the white rock. These can be of a wide range of colours including black, grey, brown, pink and green among others.
You will want long lasting and durable stone in your kitchen. In Hoylake, marble countertops will last for many years and will elevate your kitchen from nice to stunning.  The patterns in marble are larger than in granite and the colour of the veins is more consistent. Marble is relatively heat resistant but excessive heat should not be applied to any stone countertop without protection. Hot pots and pans should never be placed directly onto the stone. Once sealed the marble is no longer porous and will be hygienic and easy to clean. Our dedicated team will measure up the area for the countertops and then cut, polish and seal the stone. We install the countertops with our experienced fitters as the stone is very heavy and will chip or crack if handled incorrectly or dropped.
We supply and fit beautiful marble countertops in Hoylake. Contact David Williams today or visit our showroom to see the wide range of stone we have available. David Williams is a time served stone mason, one of a very rare breed. He has over 50 years experience designing countertops, fireplace and many other items made from stone. The family run business also has a dedicated staff of six craftsmen who ensure that all the projects are carried out to the highest standards. We are happy that we can offer a very affordable price for high quality marble countertops.