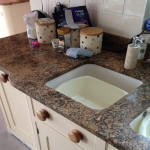 David Williams offers beautiful granite countertops in Ellesmere Port.  Granite is a beautiful, durable material that adds a touch of luxury to any home.  It is also very functional.  Granite can withstand scratches. It can also take heat, so when you place a hot pan on the granite it will not be damaged.  This makes it ideal for the kitchen.  It also available in a number of different shades so you will be sure to find the one that suits your kitchen perfectly. Because of its natural beauty, it will be the highlight of your kitchen, and the envy of anyone who sees it! Another bonus is that when the granite countertop is sealed, it is resistant to stains.
For your kitchen makeover in Ellesmere Port, granite countertops are an ideal choice. Speak to us at David Williams.  We will be happy to visit you in your home to see your requirements and to help you with the design of your countertop.  You will then be invited to our showroom so you can choose the granite that will suit your kitchen perfectly.   There are 40 different types of granite from which to choose at David Williams and this means there is something to suit every taste. We will see the project through from end to end, beginning with the design and ending with the installation.  The granite will be carefully cut to your exact dimensions, polished and then installed.  Once your countertop is installed, you will be thrilled with the effect it has in your kitchen.
If you are planning to renovate your kitchen, remember granite countertops in Ellesmere Port at David Williams. For more information about our granite countertops, contact David Williams today.   When you use our services, you will be very pleased with the excellent workmanship, the quality product that you receive and the exemplary customer service that you experience. Our family run firm will provide top quality service and products at affordable process. With over 50 years of experience, you can rely on our specialists for the perfect granite countertop for your kitchen.