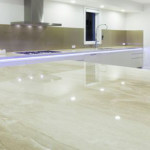 Marble countertops in Wallasey are a wonderful way to add glamour and style to a kitchen. Choosing the material for a new countertop should be a careful consideration as a countertop is not a part of your kitchen that is often replaced. Marble is an excellent choice for a countertop as, apart from its good, clean looks, it has numerous other benefits. As marble doesn't conduct heat very well, it stays at a naturally cool temperature. This makes it ideal for those who enjoy cooking as the ingredients can be easier to work with. Marble is also easy to maintain.  All you need to do to keep it spotlessly clean is wipe the surfaces down with water and a mild detergent – also a plus for busy households.
To add a sophisticated and chic look to your kitchen in Wallasey, marble countertops are perfect for an extreme makeover. When you have decided on a new marble countertop for your home, speak to David Williams. We offer a complete service of templating, manufacturing, as well as installation by our own team. Bring us a sketch plan of your kitchen, and we will help with the design and layout of your new marble countertop. Once you are happy with the plan, we can compile a competitive quotation for the construction and installation. We know that marble looks stunning no matter what kind of kitchen you have.  With our many years of experience, and our 'can-do' attitude, we will provide you with a marble countertop that will be the envy of everyone who sees it!
Marble countertops in Wallasey will increase the value of your home. With its clean, elegant looks, you will have the kitchen you have only ever dreamed of. Contact David Williams today for more information about our marble countertops. You can rely on our expertise and professionalism for a beautifully crafted and expertly installed marble countertop. Our family run company will ensure that you receive the very best of attention and the highest quality products. We pride ourselves on our excellent reputation for high quality workmanship, customer service and fair prices. We are also members of BRAMM, our trade association which guarantees your security and satisfaction.