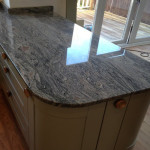 Why not install granite worktops in Hoylake for a beautiful and functional kitchen? Each project that we create for your home is done with precision and care. From working with you to choose your Quartz surface or your Granite top, through to advising on additions such as upstands, splashbacks or window sills we will make sure that the finished project will be a true showstopper taking pride of place in your home. With every commission we carry out an initial site visit and take a full template to suit your requirements. Following this your granite worktops are then fabricated by our in house team of craftsmen at our Wirral factory. The final stage is complete installation of your worktops carried out in your home. We are proud to have been the pioneers of granite countertops in the Wirral many years ago and this is a reputation we work to maintain.
Whether you choose a Quartz surface from our selection of Silestone, Samsung Radianz, Santa Margerita or Silkstone, or a Granite worktop from our beautiful selection of natural materials, your kitchen will be finished with a stunning worktop that will stand the test of time.
We supply and fit custom made granite worktops in Hoylake. Contact David Williams today for the largest selection of stone worktops in your area. David Williams has been working with stone for over 50 years and has been highly trained as a stone carver, one of the few who can still call themselves stone masons. Our firm is run by our family with a dedicated staff of six other craftsmen. With so many years of experience behind us our accumulated knowledge and design expertise have led to a formidable reputation as the leading stone workers in our area and beyond. We also make fire places and vanity tops out of stone offering only the best quality of materials and workmanship.