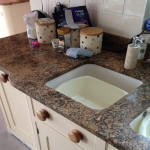 Have you wondered why quartz countertops in Hoylake are so popular? Quartz is an excellent alternative to the typical granite or marble countertop. Recognised for its beauty and numerous qualities, quartz is fast becoming a popular choice in material. Quartz countertops are made from natural quartz. This is one of the hardest minerals found in the Earth. Quartz is also a non-porous material, and this does not allow for bacteria to grow. It is also pretty much stain resistant, making it an ideal material for a countertop in the kitchen.
To change the look of your kitchen in Hoylake, quartz countertops are a must have. Not only will they add elegance and class to your kitchen, they are long lasting and will definitely add value to your property. We at David Williams are experts when it comes to creating stunning work and countertops. With many years of experience in the field, we can design and install the perfect quartz countertop for your kitchen. All you would need to do is bring us a sketch plan of your kitchen and we can begin the exciting process of designing the perfect quartz countertop for your kitchen. We will advise on the availability of the quartz, discuss the layout and then prepare an estimate for the cost of the work.
Quartz countertops in Hoylake are an elegant way to increase the value of your home. If you are interested, and would to find out more information about quartz countertops, contact David Williams today. We offer a complete service that includes templating, manufacturing, as well as installation by our own team. Quartz provides a clean 'high tech' look, and will make your kitchen the envy of everyone who views it. We invite you to visit us where you can view our available range and discuss the various available options. The quartz countertops that we supply are durable, solid and available in amazing colours. Once you view our quartz countertops, you will immediately want to choose your own!