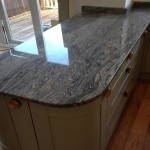 Marble worktops in Wirral are probably one of the dearest wishes for anyone who enjoys working in their kitchen. Marble is mostly white, although there are other colours available. It has a look all of its own. It brings a shiny cleanliness to any kitchen. Marble can be found in many parts of the world. It is metamorphosed limestone and although white or off white is the most common colour it can also be found in pinks blues and greens. The swirls and veins that give marble its interesting appearance are from a variety of mineral impurities. It is relatively resistant to shattering and make a perfect cool work surface.
When you want a dream kitchen in Wirral, marble worktops will be your number one priority. Installing marble worktops will help keep your kitchen surfaces clean. Stone is easily kept hygienic with modern anti-bacterial detergents. We are the pioneers in Wirral for stone worktops. Our normal course of action with an enquiry is to visit the home and consult with the clients. Once we have established their requirements we invite them to the factory to choose the stone they want installed. We make templates to ensure that the stone fits perfectly and then cut and polish the chosen stone. We install our own worktops as they are very heavy and can be damaged if dropped.
Marble worktops in Wirral are practical and beautiful. Contact David Williams today to see how cost effective our marble worktops are. We have over 50 years of experience in working with stone and also supply granite and quartz worktops. David Williams is a highly trained stone carver and along with his wife, son and six dedicated craftsmen provide the most beautiful worktops, fireplaces and other bespoke stone work. Great care is always taken in measuring the site and designs are produced to ensure that the client is happy with the proposal. Once changes have been made and agreement has been reached work can start on the cutting of the stone.