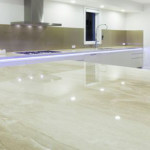 Granite worktops in Wallasey have a large number of benefits. As granite is non-porous, your worktop remains a hygienic surface on which to work, making it an ideal work station for a kitchen. The surface will also never be damaged when hot items are placed on it. Once it is sealed, granite is stain resistant, making this yet another reason why a granite worktop is ideal for a kitchen. For those who use the kitchen as more than a food preparation area, you will be pleased to know that granite worktops are easy to clean, requiring just a little warm water and mild detergent.
Perhaps the biggest appeal for homeowners in Wallasey; granite worktops add value to your home. If you are interested in finding out how easy and affordable a granite worktop is to purchase and install, speak to David Williams. We are proud to say we have been producing high quality granite worktops to our clients for many years, and we are the pioneer in Wirral for doing just that. Our service includes a complete service of templating, manufacturing and installation by our own team. If you would love to have a granite worktop in your kitchen, pay us a visit. Bring a sketch plan of your kitchen. Our team will advise you of the range of granite available. We will also help with the design and layout, after which we will give you an estimate of the cost of work.
Granite worktops in Wallasey do not depreciate in value. It is a stunning, one-of-a-kind, natural surface, and it also has an almost luminous look. For more information about how we can assist you with creating the perfect granite worktop for your kitchen, contact David Williams. Why not add a stunning and durable work surface to your kitchen, and enjoy all the advantages of a granite worktop from David Wirral? Speak to our specialists with their many years of experience as designer craftsmen, and add both value and style to your home.