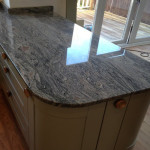 What do you think of when you see beautiful marble worktops in the Wirral? Maybe you feel envious. Most people view marble as always being in good taste. It never goes out of style and endures. The colour hues vary by location of origination. One will coordinate with your décor so view the selections at David Williams and see how affordable marble can be. David Williams' marble worktops are competitively priced and each is customised to your kitchen space. David Williams are designer craftsmen in marble with many years of experience. Marble is softer and easier to work with than any other stone so you can get more creative with the shape. It is also readily available.
In the Wirral, beautiful marble worktops are created by David Williams. Their methods are exacting. After taking the correct measurements for your worktop they make a template. You will visit their showroom to choose your stone. If white is your colour you will be hard pressed to find any stone that gleams whiter than marble. Your stone is cut, shaped and finished by skilled artisans. You will be asked to return to the shop to view your worktop and approve it. Only after you approve the work will the worktop be installed in your home. Fitting will be meticulous. For David Williams, customer service and satisfaction is supreme.
Beautiful marble worktops in the Wirral created by David Williams are durable and heat resistant. Because the stone is soft it requires resealing once or twice each year. Most people who choose marble do so because of its beauty. The functionality is important but the beauty is irresistible and authentic. Many worktops are designed from a variety of materials to look like marble. So far, nothing compares to the depth, sheen or cultured look of the real deal. When only real marble will do, choose real craftsmen to design and install it for you. You will receive full instructions on how to care for and maintain your new marble worktop so it stays looking new. For more information about beautiful marble worktops, contact David Williams.