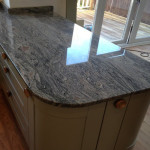 Granite worktops in Ellesmere Port are the perfect addition to add a whole new dimension to your kitchen. Tired of your existing kitchen's worktops? Are they worn and dreary looking, with scratches and scars? Give your kitchen a makeover with stunning new granite worktops. Granite looks good, adding a sophisticated and sleek look to any kitchen. It is also a durable surface ideal for the daily preparation of food. An ideal material for a worktop as it is known for its longevity and is easy to maintain. It is also a hygienic material as there is little chance of bacterial contamination.
In Ellesmere Port, granite worktops will add value to your kitchen. It is a one-of-a-kind, natural surface that will last forever – no need to be concerned about replacing the kitchen's worktops in the future. If you are considering having granite worktops installed, pay a visit to David Williams, designer craftsmen in marble and granite. As they offer a complete service of templating, manufacturing and installation, you can speak to them about what you have in mind for your kitchen worktops. Bring a sketch plan of your kitchen and they will advise you on the range of granite available. Tell them about your ideas and they can help with the design and layout. Once this has been discussed, you can receive an estimate of the cost of work.
Granite worktops in Ellesmere Port add a timeless aura and appeal to a kitchen. As granite has many different shades of granite, you'll find one that blends perfectly with your kitchen cabinets, flooring and walls. The experts at David Williams will offer suggestions about the most suitable choice and advice on its care and its upkeep. As granite worktops are easy to maintain, they can be simply wiped down with a damp cloth and detergent – perfect in today's busy world. An added bonus is that they are stain and heat resistant. If you are considering granite worktops and would like more information, contact David Williams.