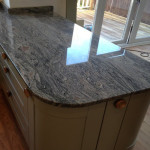 Stunning marble countertops in Neston are an excellent way to transform your workspace. If your countertops are looking a bit drab, it may be time to revamp them. The benefits of installing marble countertops go beyond aesthetics. Marble countertops are durable, and able to withstand heavy use. This stone is also visually striking. Hence, not only will you have a durable countertop, but one that is beautiful to look at. Add prime functionality with finesse and style to your workspace with new marble countertops. Speak to us about your new marble countertop. Our expert team can advise you on the best design and layout for your new marble countertop. We will also provide an affordable quotation for the work required.
For your home or business in Neston, marble countertops are available from a leading professional. Your countertops should meet your requirements. Thus, marble countertops are the perfect choice for you, whether it is for your modern bathroom, your busy kitchen, or your shop worktops. Speak to our experienced craftsmen to assist you with the design and installation of your new marble countertops. You can choose from the highest quality marble designs. Thus, you can be sure that you are choosing bespoke countertops suited to your requirements. Marble is heat resistant. Thus, this makes it a perfect material for a kitchen countertop. Furthermore, your new marble countertop is also resistant to scratches, cracks, and breakage.
Marble countertops in Neston are installed by skilled experts. We are here to assist with your countertops project. Give us a call to discuss the layout of your space. From there, we will work with you to design and plan your new countertops. Boasting over 50 years of industry experience, we will go above and beyond your expectations. Contact David Williams to find out more about our competitively priced marble countertops. We are well versed in our products and can provide advice on the benefits of choosing marble. Furthermore, we will walk you through what the entire process will entail. Marble countertops will add value to your property. Add a sleek and stylish look to your workspace and ensure optimal functionality of your worktops with marble countertops.