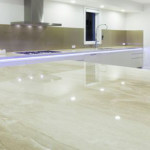 Consider marble countertops in Mobberley if you are looking at revamping your workspace. David Williams boasts a variety of bespoke marble countertops to choose from. Not only will it be a robust, sturdy workspace, but a stylish, chic one too! Marble is a sturdy, highly resilient material that also creates a dazzling look. Studies have shown that your environment influences your productivity. Why not make your workspace one that inspires you?
Whether it's for a kitchen, home office, or bathroom in Mobberley, marble countertops are just the option you're looking for. Jazz it up while providing a durable surface. David Williams offers impeccable service from the point of choosing a design right through the installation of your new countertops. We pride ourselves on excellent customer service, and professional delivery of service. With years of experience, we are fully equipped to meet your countertop requirements. We are a family-run established company with six competent and committed craftsmen who make up our team. We instil the values and morals that we follow at home into our everyday work.
Marble countertops in Mobberley provide numerous advantages over wooden or other material countertops. As the countertop is sealed, the marble is not porous, and spills will not soak into it. It also means that it is easy to keep clean, and in fact, requires very little maintenance. Marble is dirt resistant, meaning it is a hygienic surface. As it is also heat and cold resistant, you won't have to worry about burn marks on the surface. We're proud to offer a complete service of templating, manufacturing, and installation by our own team. Contact David Williams today to arrange a time to bring a sketch of the layout and to plan your new marble countertops. We will advise you on the available range of marble and will assist with design and layout. Once we are both happy with the result, we will provide an estimate for the cost of the work to be completed. Add a new look to your property with our expert services.