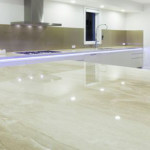 If your colour scheme is apple green, quartz worktops in Neston is what you want for your kitchen. For the finest workmanship and guaranteed satisfaction, David Williams is the master stonecrafter to design, create and install your new worktop. Kitchen designs tend to be functional and neutral. That's okay but when you choose quartz for your worktop you get the option of a colour splash along with incredible functionality. Unlike granite or marble, which is mined, quartz is factory engineered from ground quartz and resins. During that process, pigment can be added in natural earth tones or a colour of your choice, including red. Metallic flecks or ground glass is also added for an authentic stone sparkle.
Quartz is one of the hardest minerals on earth making it stain and scratch resistant. Even better, in Neston, quartz worktops are non porous due to the added resins so it never has to be sealed as other stone does. Overall, quartz is the most durable, good looking, sanitary and low maintenance worktop for your kitchen. It's the one stone with which you can let your true colours shine through. At David Williams, we have been crafting stone worktops for decades. We continue to create a template from your design preference after visiting your home to take measurements. Once we have that to your exact specifications we make your quartz worktop from the template and the quartz colour of your choice. It will be a perfect fit.
Our quartz worktops in Neston are supplied and fitted by our experienced team of dedicated professionals. Family owned companies are like that, don't you think? We just have so much at stake, our reputation and livelihood, we can't afford to carry out a second rate project. We were first on the Wirral to bring our handcrafted worktops to our customers. Even though we now have some competition, nothing has changed about the way we manufacture our products or conduct our business. For a beautiful quartz worktop, contact David Williams. Our skills and attention to detail will guarantee a fabulous and durable asset to your kitchen.