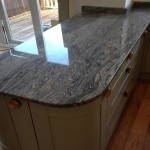 Get your quartz worktops in Birkenhead, from the best supplier, David Williams. Whether it's for your place of business or your own personal use, you will find that we supply first class products, available at very competitive prices. We have been in the industry for many years, and have supplied hundreds of happy customers with premium quality worktops. The products that we supply are not just useful, but they are aesthetically pleasing and guaranteed to improve the appearance of your kitchen, and give it character.
There is a wide range of worktop materials and styles available on the market, which can make it quite challenging to pick the right one. In Birkenhead, quartz worktops and granite often make the top of the list for the features that they provide. Quartz, however, is a good solution if you are looking for something that is durable, long lasting, and will not disappoint in terms of style. Quartz is known to be one of the hardest minerals found on earth, and sometimes, pieces of glass and metallic flecks are added for beauty. Another great advantage is that quartz is a wonderfully non-porous materials, which means that bacteria, odours and stains will not stick to your worktop. This is perfect if you are going to use your worktop extensively. On top of that, you will find quartz worktops to be heat-resistant as well as scratch-resistant. Quartz worktops are also known to absorb substantial impacts without being affected. If you are interested in getting worktops for your kitchen, you will be pleased to know that at David Williams, we will be in charge of every step of the manufacturing and fitting process.
Speak to our designer craftsman regarding our stunning quartz worktops in Birkenhead. Our craftsmen have a can-do attitude, and we will be happy to provide you with a carefully designed quartz worktop. For more details about our quartz worktops, contact David Williams today. We pride ourselves on the high level of service that we constantly provide our customers. Our prices are fair and we stand by our reputation.