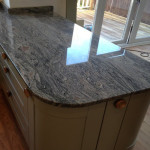 We are known as designer craftsmen and suppliers of marble countertops in Ellesmere Port. Our complete service includes template making, manufacturing and installation by our own team.  Your kitchen will look extremely elegant and stylish with marble countertops which always look clean and glow with an ethereal light. Marble worktops are stunningly beautiful and offer the benefit of being able to be polished throughout their life to keep them smooth and hygienic. This is because it is a softer stone than granite or quartz but it has a stunning inner glow which makes it stand apart from other countertop stone. You can also have the marble countertops installed in the bathroom on top of the vanity.
Once you have seen how beautiful our countertops are you may have difficulty deciding which would suit your kitchen best. In Ellesmere Port, marble countertops are generally light in colour and can brighten even the dullest kitchen. The marble stone is a metamorphism of limestone or dolomite. The wonderful characteristic swirls and veins in the light coloured stone are caused by various minerals that are present as grains or layers in the rock. There is a wide range of colours to choose from and we can match your colour scheme with the marble. We install all our products as the stone is very heavy and can be damaged by being dropped. Our team of installers are highly qualified and experienced in fitting all shapes and sizes of stonework.
We supply and install marble countertops in Ellesmere Port and the surrounding areas. Contact David Williams today or visit our showroom to see the huge range of stone available. David Williams has more than 50 years experience handling stone and is a fully qualified, time served, stone mason. This family-run business also designs and creates fireplaces out of stone for homes that need an eye-catching statement piece. His wife and son along with six dedicated staff make up the team. We will help you with the choice of stone material for different applications. We make sure that you are satisfied with the design before we begin manufacture.