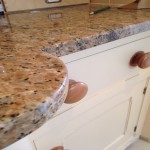 Quartz countertops in Meols are a wonderful alternative to the more  conventional marble and granite. Quartz, unlike its more popular and natural counterparts, is a manufactured stone that is considered to be stronger and hardier than granite. Quartz is also less porous than granite. This means that your countertops absorb fewer substances, and thus, last longer with less maintenance requirements. Quartz is also quite scratch resistant, so, although it will get, and show, scratch marks, it does hold up better in terms of the amount of force required to achieve this than the natural stones. Quartz is UV resistant and perfectly suited to a kitchen, even if there is lots of sunlight.
If you are wanting to upgrade your kitchen in Meols, quartz countertops are an excellent investment. As we offer a complete servicing of templating, manufacturing and installation by our own team, getting a new quartz countertop is as easy as paying us a visit. You could bring a sketch of your kitchen layout, and we will help with the design and layout. After which we can provide an estimate of the cost of the work required. We will also advise on the range of quartz available, and answer any questions you may have. You will find our prices are competitive, and as we have more than 50 years of experience as a designer craftsmen, you can be confident in our excellent workmanship.
A quartz countertop in Meols will add value to your home. Not only this, but it will add style, and a stunning new look to your kitchen. If you are interested in quartz countertops, don't hesitate to contact David Williams today. We take great pride in our excellent workmanship, eye for detail, our competitive prices and, as important, our highly regarded customer service. We are also members of BRAMM, our trade association. This guarantees you satisfaction as well as security. A family run firm, we believe in family values and ensure that our clients receive the best possible service. Ensure that you have the best quartz countertop, and speak to David Williams about our services.