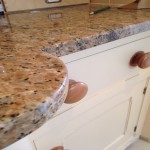 Consider how good quartz worktops in Caldy would look in your kitchen. New and carefully made kitchen worktops can add a sophisticated look and will change a dreary, tired looking kitchen into a stunning new room. Quartz worktops are a unique alternative to the more conventional countertop. To add a bit of style and pizzazz to your kitchen, get hold of David Williams, master designer craftsmen to see how we can transform your kitchen from the boring to the exciting.
For any home in Caldy, quartz worktops provide a complete new look to any kitchen. It is known for its durability and wonderful colours.  Quartz has also become a popular choice of material as it is attractive and the manufacturing process allows for a wide choice of colours, more so than you will find in other natural stone. And as it is a non-porous material, it also resists stains and is easy to keep spotlessly clean as it will not harbour viruses or bacteria. This makes it a perfect choice of stone for the kitchen!
Visit David Williams to find out more about quartz worktops in Caldy. You will be impressed by the friendliness and dedication of the designers to ensure you get the finished product you are looking for. Our designers will supply a complete service. This means that they design and template the worktop according to your specifications, manufacture, and then install it. All work is completed by our experienced and dedicated team. If you are interested in quartz kitchen worktops, contact David Williams, designer craftsmen. If you have any questions, our team will offer suggestions and advice on the different options most suited to your kitchen. We will require a sketch plan of the layout of your kitchen so we can advise you on the range of quartz available. You will be provided with an estimate of the cost of the work. With more than 50 years of experience, our talented team at David Williams will supply a new quartz kitchen worktop that will both meet, and exceed your expectations.