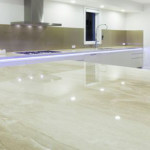 There may well be many types of worktops to choose from, but quartz worktops in Wirral are a sought after choice because quartz offers a fantastic alternative to natural materials. It is a man made material which is made up of 93% of natural minerals, and to the inexperienced eye, one might mistake it for granite. The beauty about these quartz worktops for kitchens and bathrooms is that you get a nice selection of colour to choose from. Quartz is also hardwearing, durable, non-porous and has an absorption level of virtually nil, which makes it wonderfully hygienic and attractive.  At David Williams, we're a family run business on the Wirral. We're all about ensuring that the worktop choices you make are guaranteed to impress you – after all we're a one-stop service, operating from our custom designed factory on North Cheshire. We pride ourselves on our workmanship and our fair prices and we supply and install exquisite worktops.
If you're looking for our cool quartz worktops, we visit you to discuss requirements and answer any queries you have. In Wirral, quartz worktops are far more affordable than granite and marble, but with the same beautiful looks. When choosing your countertop, because quartz is man-made, manufacturers are able to set the prices competitively. Quartz is less expensive than granite and price is also dependent on colour choice. White styles tend to be more expensive because it is particularly popular with it clean, uncluttered look. People who opt for lovely quartz worktops love knowing they all they have to do to keep their quartz tops gleaming is to wipe them down with a clean cloth and gentle cleaning agent.
Quartz worktops in Wirral are the in-thing. If you need more than just being told how awesome they are, why not contact David Williams or visit our showroom and see what fascinating colours are available? We're experts in the industry and can answer all your questions. We offer a complete service right through to installation. With our 50 years of experience, you don't only get good-looking worktops, you get an installation that is done by professional designer craftsmen so that they stand the test of time.