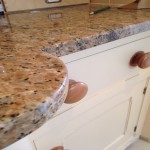 When you redesign your kitchen you will want quartz worktops in Heswall. These stunning countertops are cool to the touch and wonderful to look at. They light up your kitchen and make it the one place you want to be in your home. Having stone in a kitchen is a very sensible design feature as it is easy to keep hygienically clean at all times. The stone is very hard and has no cracks or fissures where bacteria and mould can hide. Unlike wood and other materials there is no need for scrubbing and bleaching to keep you family safe.
Many kitchen countertops today are made from engineered stone. In Heswall, quartz worktops are often made from manufactured stone which is created from crushed granite and resin. There is only 7 % resin and 93 % stone but it is enough to give a little flexibility to the stone. This stops it from being brittle and seals the stone. It also makes it harder wearing and more durable than a natural stone countertop which needs to be sealed and can crack. Softer stone can be scratched and thereby allow mould to grow where quartz is almost impossible to scratch.  The stone is very heavy and has to be fitted by our installation team. They take great care in handling the stone as it could crack if dropped or it could injure someone.
We manufacture quartz worktops to suit your kitchen layout. Contact David Williams today or visit our showroom to see our range of high quality stone. David Williams is a highly qualified stone mason who trained in Liverpool. The family run business is well known for producing beautifully carved stone fireplaces as well as marble granite and quartz countertops. All products are carefully measured to allow for correct installation. Each project is discussed with the customer in depth to ascertain what is needed. Once the customer has made a decision the work of cutting and polishing the stone can begin. Every item is unique and even the stone has its own individual characteristics.