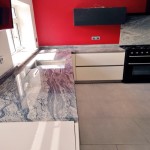 Marble worktops in Heswall are stunning. If you want a pristine and very beautiful kitchen then have a look at marble worktops. There is nothing quite as clean and bright as marble counter tops. The marble comes in a number of colours. It can be pure white or flecked with other colours. The colour depends on how the marble was formed and where the marble comes from. Different areas often produce different colour marble from green to pink and blue and many variations in between. You will need to come to the warehouse to choose the colour marble that you like. You can renovate your kitchen around the colour of the worktops. Because marble is made from a metamorphism of limestone or dolomite rock it usually has a white background. Mineral impurities in the limestone give the characteristic swirls and flecks of various colours.
If your kitchen needs a makeover in Heswall, marble worktops will set the tone for a stunning new look. The marble is cool which allows for fantastic pastry and is surprisingly affordable. It is a softer rock than granite but this is a good thing as you can have the surface polished when it becomes discoloured or scratched. This is a difficult process for granite which is extremely hard. Once polished all scratches are gone and your marble looks as good as new. This is an infrequent occurrence. We can also fit your bathroom with marble counter tops making it look quite decadent and luxurious. Where ever you need a countertop in your home think marble.
Marble worktops in Heswall are a luxurious addition to your home. Contact David Williams today and we will visit you and offer you a free quotation for marble worktops. Our highly qualified stone mason can advise you on shape, colour and design to make your kitchen dreams come true. Come in today and see the different colours that will make your kitchen a joy to cook in.