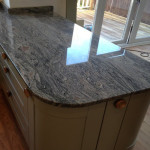 Are you after the best granite worktops in West Kirby? Have you always craved having worktops that give your home a look of elegance and sophistication? If you have and have been looking for that elusive X factor then we can certainly help give it to you. At David Williams we work harder and are more driven to achieve excellence. We won't stop until your desired look has been achieved. Our team of highly skilled craftsmen do an excellent granite worktop installation. The entire build up process is about speaking to you and understanding what you want. We will do this by paying your property a visit and conducting a site visit. All the while getting a feel for what works best. This way we can give you the best advice and value. When we combine our timeless crafts with your imagination, it will make for an exceptional end product.
Magnificent worktops have the ability to change the feel of your home. In West Kirby, granite worktops that we install will keep its spectacular look for years to come. We are far more than just fitters of this high quality stone, we also have an eye for the best detail and combinations. You won't just notice a slight upgrade once we are done. You will experience a whole new way of life as your new granite worktops look and feel great as they inspire and captivate. Your new kitchen look doesn't have to be a pipe dream. Our competitive prices and readily available service will leave you with the opportunity to enjoy luxury like never before. We have been able to, through our skills and revered talent, turn many clients' dreams into reality.
David Williams expertly installs granite worktops in West Kirby. If you've always wanted granite worktops and would like more information, contact David Williams today and we will get to work. We will prepare a very competitive quote for you that enables you to go ahead with the granite installation of a lifetime.