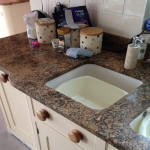 Looking for vanity worktops in Wirral can take hours of shopping, colour matching and price comparing. By the end of the shopping trip you may feel like just keeping your old worktop or replacing it with another just like it.  However, after five years your vanity worktop has lost its lustre and is showing wear. Wouldn't it be great if you never had to repeat this task again? David Williams, designer craftsmen in marble and granite can make that happen for you. With proper care, a stone worktop will last forever. If you have dreamed of a five-star bathroom, this is an easy way to get it. Marble and granite adds a look and feel of luxury and substance to any room. It never goes out of style and the versatility will allow you to change your colour scheme repeatedly.
Favour us with a visit to our showroom as long as you are in Wirral looking for vanity worktops. We work a little differently than some. We can design the size and shape of your vanity according to your preference. However, you may have a design in mind other than the usual rectangle with square corners. We can work on that design with you and take the measurements from your bathroom vanity area. Now, we make a template and review the design and fit. Once we are all agreed that we have it right, we use the template as a pattern to shape whatever stone you have chosen. We then install the finished product.
Choosing a stone from our extensive selection when looking for vanity worktops in Wirral may seem overwhelming at first. Come and spend time in our showroom and workshop familiarising yourself with the natural patterns and colour hues. There will be one that emerges as your favourite. Our craftsmen can explain the differences and attributes of marble and granite. The best method of care so the stone maintains its polish and depth will be discussed. There is nothing difficult about caring for a stone vanity. If you are looking for vanity worktops, contact David Williams. Keep in mind as you make improvements to your home that marble and granite worktops will likely increase your home's value.